February 13, 2021
Yesterday Hollandse Fragment was officially launched, and is now available in your record store or streaming service!
"Les quatre chanteurs impressionnent par leur musicalité, le sens du mouvement et des respirations. Leurs voix sont limpides et chaleureuses, expressivement en harmonie avec le sens de ces textes (…) Jacques Meegens (…) nous offre une improvisation sur O crux gloriosa, subjuguant par la virtuosité, le panache et la splendeur de son jeu. "
– Maciej Chiżyński, ResMusica.
February 8, 2021
"Hemels mooie stemmen…" we are happy with our first review by Stretto magazine's Michel Dutrieue!
Tracks from Hollandse fragmenten have als been aired on Belgium's Musiq3 and France Musique!
February 1, 2021
Diskantores are excited to announce the launch of our album Hollandse Fragmenten: Early Dutch Polyphony with record label muso! The album will be available in your local record store (as well as in online stores) from February 12th.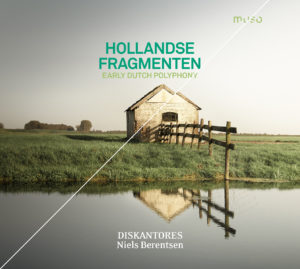 April 4, 2018
We are pleased to confirm that our program "De Vroegste Nederlandse Polyfonie" can be heard once again on Saturday June 2nd, in Hoorn. Physically we are moving north, but musically we will be exploring connections with the south! The concert will feature music by Northerners, such as Johannes Ciconia and Hubertus de Salinis, in Italian sources.
Also in June, we will be recording the remainder of our Dutch program, for an upcoming CD release. Negotiations with record firms have been promising. We are extremely happy to announce that Jacques Meegens will be featured on the recording playing the Van Straten organ, thanks to the support of the Orgelpark (Amsterdam).